Warneton
Warneton is part of Comines-Komen; is located at the French boarder; at 5 miles from Armentières (France), 10 miles from Ypres, 15 miles from Lille (in France), 60 miles from Calais. The track, completely in asphalt is a ¼ mile, measured 1 meter from the inside. The straights are 33 feet wide and the turns 39 feet wide. The oval has 4 equal sections of 333 feet – 100meter; the turns are slightly banked (33 inch difference in height between the inside and the outside) for evacuation of the rainwater. On the outside there is Armco 40 inch high with a wall of 6 feet wide. Above that a 9 feet high fence. There is a covered grandstand with about 500 seats, a cafeteria and different stands. The pit-area is for 3/4th in tarmac. In the immediate area there is parking possibility (private – do not belong to Camso) of 2.000 cars. The fastest lap-time is around 16 seconds (National Hot Rods); about 60mph average with top-speed of 85mph.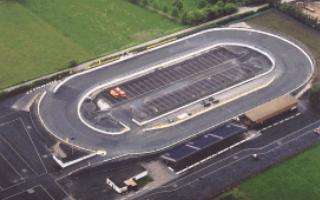 IN THE WINTER OF 2002 THE OVAL OF WARNETON WAS COMPLETELY REBUILT to become "the first high banked small oval in Europe". The track became 420m long (between 1/4 and 3/8 mile). The straights are respectively 15m (50 feet) and 17m (57 feet wide); both have 4° or 6% banking (about 1 m - 4 feet difference between the inside and the outside). In the turns the track is 17m - 57 feet wide and the banking is about 9° or 16% (2m80 - about 10 feet difference between the inside and the outside). The pitlane is 10m - 33 feet wide. On the inside and the outside, there is a concrete wall, 1m - 4 feet high; fence 10 feet high and 4 kilometers - 2,5 miles steel cables for the protection of the drivers and the spectators. The fastest laptime till now was done by Gary Ellis (Camso V8 #95 - now European Late Model) in practise in 13,0sec (116kmh - 72,5mph average with topspeed of about 150kmh - 90mph). The wall for the spectators is twice as big as before and can take about 3.000 spectators. With the covered and the new uncovered grandstand, there is actually a capacity of 6.000 spectators. If necessary that capacity can be improved till over 10.000 people by building grandstands where the big wall is now. The complete pit area is in tarmac.
Ruisbroek
The ¼ mile oval in Ruisbroek (near Boom) in the Province of Antwerp was built and runned by Camso from 1984 till 2001. Because of expropriation for public utility, the track was closed in November 2001; the last organisation took place on 19 and 20 October 2001.